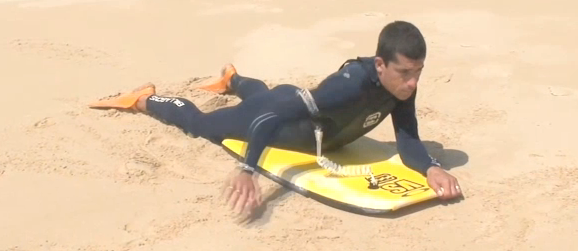 Until I discovered surf mats, I used to ride a body board when I wanted a prone session. I have retained that method of taking off when I ride a mat now.
1. I drop back on the mat to create more surface area
2. Leave my left hand squeezing a little at the center front of the mat to stiffen it up
3. Use my right arm and legs to get some speed up
4. Move my left hand back to position as I return the right hand back to the front of the mat and pull up in to a riding position.
I am very comfortable with this method but I understand that others may do it differently?
I almost never use my arms anymore..... Instead I use an ancient knee-rider tech where the rider combines his height with the mats to make a 8' wave catching machine... Hands flat on deck about half-way back with the back corners of the mat under the arm-pits... Kicking hard and reversing the mats rocker so it catches the wave and pulls you in with it! Then you do the jump forward and get that chin low...

Mateo




Posts

: 7


Join date

: 2012-01-05



Ok well I am going to give that a bit of a go. So if your hands are halfway back on the mat and flat on the deck is it not a little hard to complete the jump forward or are you just grabbin' a handful of the middle of the mat and still pulling yourself on to it? I would love to see a visual demo of that technique. Any of your mates got a GoPro or something similar?
http://vimeo.com/14432622
@ 0:18 there it is..... can be further back sometimes and probably grip it a bit on the leap forward... 2 friends have gopros now so hopefully will get some good footage soon...

Mateo




Posts

: 7


Join date

: 2012-01-05



Ah Yes excellent. Thanks heaps for that! Cottons! Now that was a mat meet!
I've been trying to hang back on the mat for take off, but I'm doing it on a round tail and it just feels a bit wrong when I shift forward. The rear of the mat crumples upwards a little. I'll keep at it though, as I'd like to get on the wave earlier

michaelw




Posts

: 2


Join date

: 2012-01-13



Yep my technique is a little like Mateo's in that the mat is extended forward when finning but only far enough that I've still got both hands on the front corners of the mat, forearms stay down, pushing down along the rails to help stabilise and on an angle to help reverse the rocker a little to help get planing, and then just squeeze with both hands for pressure and it seems to be pretty easy to slide forward into position at that point, thats if positioning in the line up is good, if I need to move quick ie to get to a take off point further inside then I free up an arm like Ramsnake to help paddle, if its just dredging and shallow then I just run around (without fins) on the sandbar jumping onto the mat last second, couple of quick strokes maybe - barreled

mattj




Posts

: 5


Join date

: 2012-01-14



I always take off as far forward on the mat as possible, already in position. Seems to work best for me.

I ride really low air (less than 50%) and have trouble with the body extension take off. The mat crumples when I try to pull forward. Plus, I find the forward position is advantageous when taking off late. The combo of kicking and paddling seems to help when riding crowded pointbreaks and fighting for waves.

Pooltoy




Posts

: 4


Join date

: 2012-01-05



Well that is the complete opposite isn't. I have tried taking off like that but it just does not work for me even at a 90 degree inflation as the front of the mat bends up because I don't have an arm across the front of the mat to maintain it's shape. Perhaps I need to be further forward. But, I ride a mat right up the front like Prana does whereas I see many pics of other mat riders who seem to ride further back on their mats like Warren Pfieffer. Most interesting.
---
Permissions in this forum:
You
cannot
reply to topics in this forum