Darkfin
gloves have become an indispensable part of my mat surfing kit especially now I am using smaller Duck Feet fins. These gloves might be an option for you too if you if you cannot handle big fins. They also stop my finger tips from being chewed up from hanging on to the mat.
Webbed Design increases surface area by 70%
Durable, one-piece latex rubber. No uncomfortable stitching or straps.
Awesome dexterity - Second only to bare hands
Flexibility - Handle even the smallest items
Superior Grip - No slip surface material
Contoured Fit - Keeps your hands relaxed
Not since the surfboard fin was invented has there been a product that allowed more position control, maneuverability, and paddle speed for surfers.
It's this simple. If you surf... you paddle. Some surfing experts will say "All you need is technique" Have you ever seen a surfing technique where you did not have to paddle? Of course not! You paddle to the swells, you paddle to get position, you paddle to catch the wave. Darkfin gloves' rear web design can increase your horsepower by as much as 70%. That's huge! And for competition training, Darkfin gloves will help build all of the upper body muscles needed to make you a more powerful competitor. Darkfin Power Gloves might not improve your surfing technique but they can put you in position to catch more waves, and riding more waves will make you a better surfer. You're going to be surprised!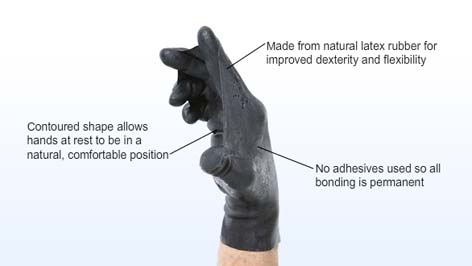 Similar topics
---
Permissions in this forum:
You
cannot
reply to topics in this forum